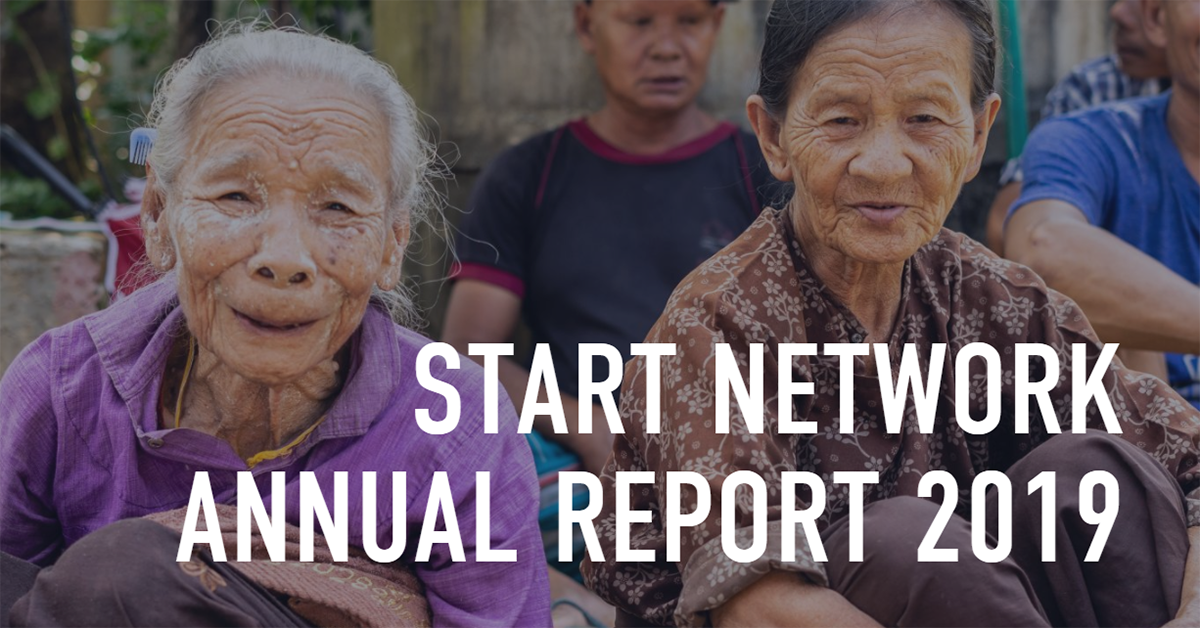 Annual Report 2019 launch
Christina Bennett and Suzanne Lyne, Start Network's CEO and CFOO reflect on Start Network's impact in 2019.
Published:
Time to read: 3 minutes
By Christina Bennett, CEO and Suzanne Lyne, CFOO
We both joined Start Network in September 2019, drawn by the momentum around its agenda for change, and excited by shaping an ambitious, newly independent humanitarian network. Since joining Start Network, as newcomers to the organisation, we have felt both concern and promise in equal parts.
Concern because, in 2019, we saw the devastating effects of multiple disasters, more than half of which could have been predicted and their effects avoided. Concern also about the marked increase in the number of people driven from their homes from the combined effects of conflict, disaster and political inaction – now an estimated 272 million. And concern that, in April 2020, we are only just beginning to understand the impact of COVID-19 in low-income countries.
But we also saw promise in that Start Network would tackle the complex problems of our sector through new thinking, new approaches and new coalitions. Indeed, looking back over 2019, Start Network's achievements were impressive:
We defied slow and reactive funding. In February we received the 300th alert to our global rapid response Start Fund. In August we announced a $10 million payout for the drought insurance we purchased through ARC Replica in Senegal and began working with our members to plan for drought mitigation activities there.
We channelled funding directly to local organisations. Start Fund Bangladesh channelled 55% of its funds to local NGOs during the year. In August, we completed the design of our new tiered due diligence process, and by year end had pledges from three current donors for direct funding to our smaller, local members.
We co-created community-based innovations with close to 100 local teams through our DEPP Innovations Labs. Many have secured additional funding, partnerships or clients.
We diversified our donorship, through a new grant to the Start Fund from our first private funder, the IKEA Foundation.
We took a giant leap toward realising our localisation ambitions by launching five new civil society hubs in the Democratic Republic of Congo, Guatemala, India, the Pacific and Pakistan.
We implemented a new leadership model with joint CEO and CFOO responsibility for delivering strategic and financial results, while maintaining transparent and compliant operations and risk management.
On 1 May 2019, we became an independent charity: a membership of humanitarian aid organisations that is mission-led and results-driven; one that measures success by the strength of its network and its ability to deliver positive change for those vulnerable to and affected by crisis. Looking ahead, we are excited about 2020, a year that also marks Start Network's tenth anniversary.
We look forward to making progress on our ambitious agenda for systems change. We applaud the Start Network team, membership and Board of Trustees, who worked tirelessly toward all that we achieved in 2019, with special thanks to Board Chair, Christof Maetze and Vice-Chair Bob Ruxton, for leading our spin-off and to Catherine Sneath for acting as Interim CEO from July to September 2019. Finally, we thank Sean Lowrie, Start Network's founder and Director until June 2019, whose vision and leadership has inspired what this ambitious and dynamic, organisation has become.
Best wishes,
Christina Bennett, CEO
Suzanne Lyne, CFOO